Treasures of Turkey - Small Group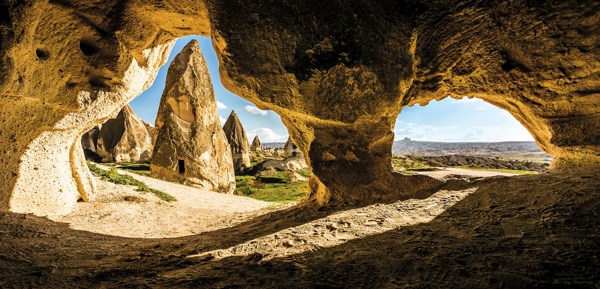 Treasures Of Turkey - Small Group
Travel Turkey on this 15-day guided tour. See Cappadocia, where golden landscapes give way to caverns below. You'll descend into a local resident's cave house for a tour and talk about their way of life. Later, see whirling dervishes - twirling dancers who will entertain you during a special dinner. In Göreme, explore rock-hewn churches decorated with ancient paintings before dining on the unique flavors served at a local restaurant that supports women from the village. Travel to Turkey's third largest city, Izmir, and explore one of the world's finest archaeological sites, Ephesus. Here, walk to its gargantuan amphitheater, which could seat as many as 24,000 people. In Istanbul, see the Blue Mosque's tiled domes and the Hippodrome, where Roman chariot races were held. Try your hand at bargaining in the city's Grand Bazaar, which includes more than 4,000 shops.
Dining Summary
9 Dinner with Wine (DW)
14 Breakfast (B)
1 Lunch (L)
Additional Included Highlights
: Personal radio headsets give you the freedom to wander during visits to famous highlights, without missing any of your Local Expert's fascinating commentary.
: Hotel and restaurant tips are included - you'll never have to worry about how much to give, nor search for foreign currency. We also include all taxes and porterage charges at hotels.
: We carry your bags for you and promptly deliver them to your hotel door.
: From time to time, your Travel Director will delight you with an Insight Flourish, which is a local specialty representing the destination.
: Stay connected with friends and family with our complimentary coach and hotel Wi-Fi (where available).
: If your arrival and/or departure flights are as per the itinerary start and end dates, then transfers are available at scheduled times. If your flights are outside these times, or you have booked additional nights accommodation with Insight Vacations, you may purchase transfers or make your own way from/to the airport.
Authentic Dining
Istanbul: Enjoy getting to know your fellow travellers as you savour a delicious Welcome Dinner in a local restaurant.
Cappadocia: Discover the flavours of Cappadocia as you indulge in a regional dinner of colourful dishes, before watching a spectacular Sema performance of Whirling Dervishes at a 13th century Seljuk Caravanserai.
Istanbul: Toast the culmination of your tour with a lively Celebration Dinner at a popular local restaurant.
Insight Experiences
Cappadocia: Join a Cappadocian local, who has lived in the city for decades and take a tour of their cave house to learn more about their unique way of life.
Make Travel Matter
Uchisar: Enjoy the unique flavours of Anatolia at Uchisar Kadineli Restaurant, where every dish is homemade with love. This remarkable establishment provides employment for more than 65 women from the village. The restaurant is owned by women and focuses on empowering women through employment. Some employed as administrators, some as teachers, some as cooks and some as waiters. Here they are taught how to sow clothes by using modern technology, how to knit, how to cook, how to make various kinds of artifacts, and how to merchandise their products and convert it to money for their families. Uchisar Kadineli Restaurant advances UN Sustainable Development Goal 5: Gender Equality.
Top Rated Highlights
Istanbul: Enjoy a relaxing cruise on the Bosphorus in Istanbul, where you'll pass Ottoman palaces, old mansions and fortresses.
Bursa: On your orientation with your Travel Director visit the town's mosques, bazaars and famous Silk Market.
Cumalikizik: Visit the over 700 year-old village to get glimpse into what Ottoman villages away from the capital looked like.
Ankara: Discover the mysterious Hittite civilisation and visit the mausoleum of Atatürk.
Ankara: On your orientation with your Travel Director of the capital of modern Turkey discover its Roman and Byzantine heritage, visit the Museum of Anatolian Civilizations and the Mausoleum of Atatürk.
Göreme: With your Local Expert, explore the underground cities, rock-cut churches, fairy-tale chimneys and the Pasabag Valley.
: Learn about the ancient art of pottery making in Avanos.
Konya: Visit a well preserved Seljuk Caravanserai.
Konya: Accompanied by your Local Expert, visit the beautiful Mevlana Tekke museum for an insight into the mystic Whirling Dervishes. See the Karatay Medrese and Ince Minaret.
Aspendos: Visit the world's best preserved Roman Theatre in Aspendos.
Antalya: Visit the historic Old Town and wander through its charming narrow streets, discovering souvenir markets and sweeping sea views.
Pamukkale: See the cascading Cotton Castle of milky white travertine pools and the ancient ruin of Hierapolis.
Corinth: Visit the open-air museum Aphrodisias dedicated to goddess Aphrodite, see the ancient city and statues that have survived preserving most of their originality.
Izmir: Explore this city with your Travel Director.
Ephesus: Discover one of the world's finest ancient sites. Led by your Local Expert, walk the Arcadian Way, see the Library of Celsus and Amphitheatre and visit the House of the Virgin Mary.
Pergamon: Visit Asklepion, the first hospital and spa centre in the world for physical and mental health and see its well-preserved and impressive Roman columns.
Troy: Visit this ancient sight fabled to have been destroyed over love and view the huge reconstructed Trojan Horse.
Troy: On your orientation with your Travel Director hear about the nearly 4000 year-old settlement, see the wooden Trojan Horse and hear about myths and legends connected to this archaeological site.
With Insight, you'll enjoy the best experiences your destination has to offer – all included within one price. You'll travel in business class elegance to quality, handpicked hotels in the best locations on our luxury coaches. They're specially configured with fewer seats to offer 100% more legroom than standard touring coaches.

You'll meet new people, too. Whether you join us on your own, as a couple, or with friends and family, the small group that you travel with will share your passion for travel, culture and discovery. Many of our guests form lifelong friendships on Insight tours.
Please Call, Airfare not included